Posted on 30 April 2014
It was a fairly common call.  A repeat client wanted me to look at a section of his barn where the corner board was showing signs of rot.  When we went to look at the job, it was clear that the corner board, and everything behind it, had decayed considerably.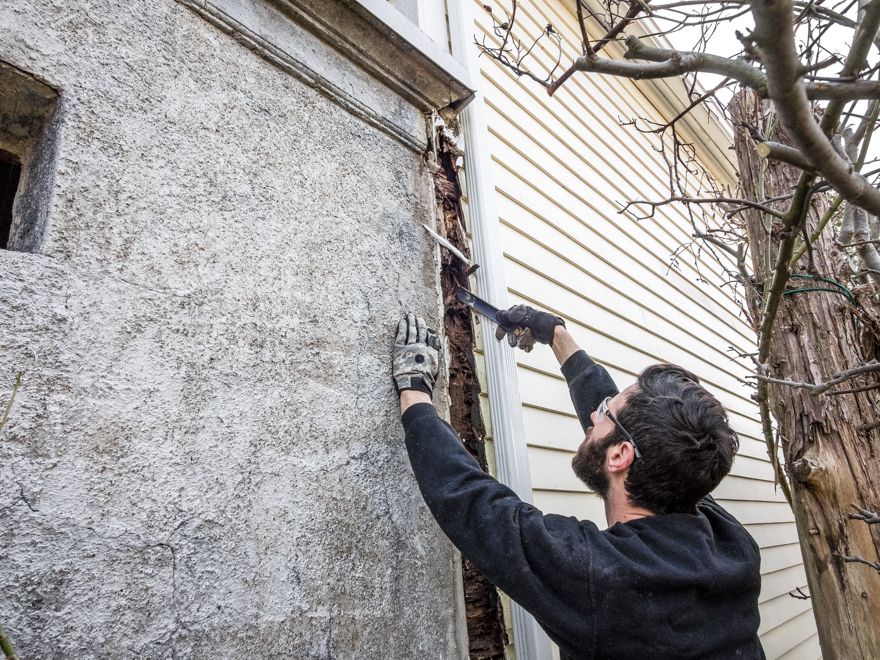 Greg's flat bar is buried all the way into the 4×6 corner post; there was indeed a problem.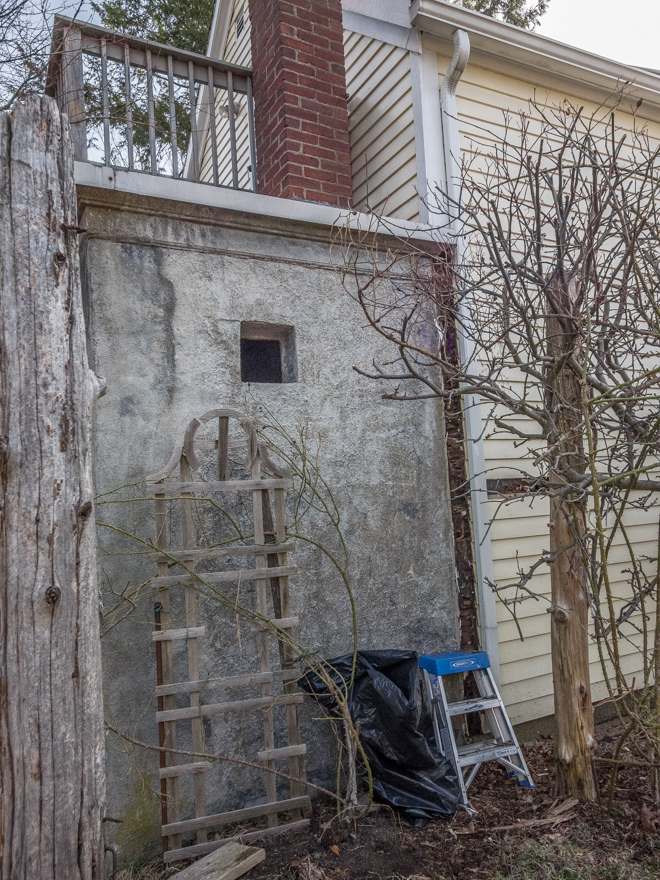 The barn was built in about 1915 to house the limousine for the estate, and the concrete shed attached to the back of the barn held a (coal?) stove to keep the limousine warm.  The current owner's sense is that the shed was built at the same time as the barn.
The shed was almost certainly the cause of the rotting corner — the intersection of the shed's roof with the sidewall of the barn was poorly flashed, allowing water into the wall assembly from the shed down, and the concrete against the wood was keeping the barn wall from drying to the outside.  The shed was also dramatically complicating the repair, as it was covering much of the area that needed attention.  In consultation with the client, we decided that the only reasonable way forward was to remove the shed.
As readers of this weblog know, we are wood guys, and the demolition of a 99-year-old concrete building is well outside our competency.  In situations like this, I call Steve Sullivan of Celtic Landscaping, an uncommonly careful guy with lots of big machines.
The first steps were to take down the chimney and create some temporary supports.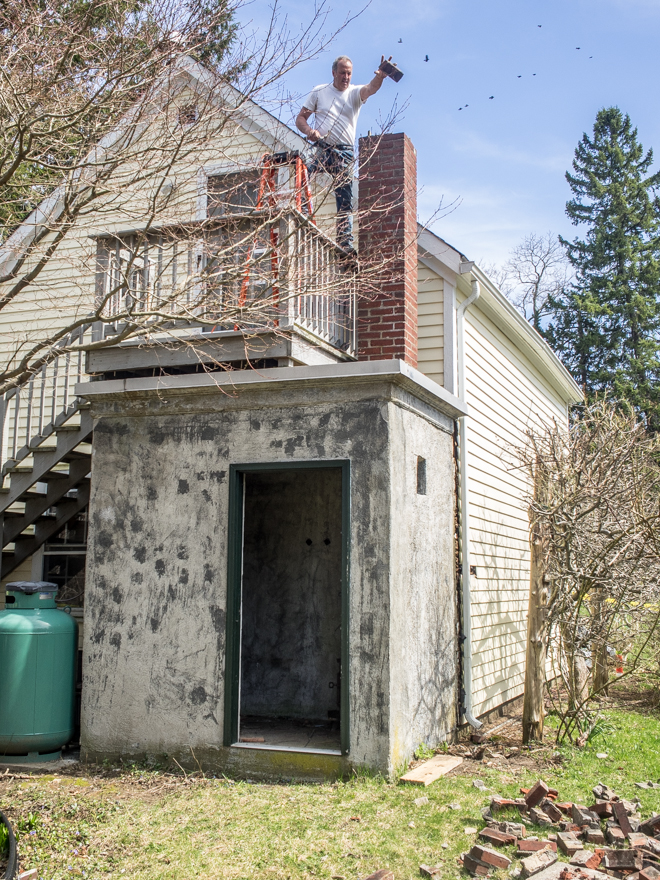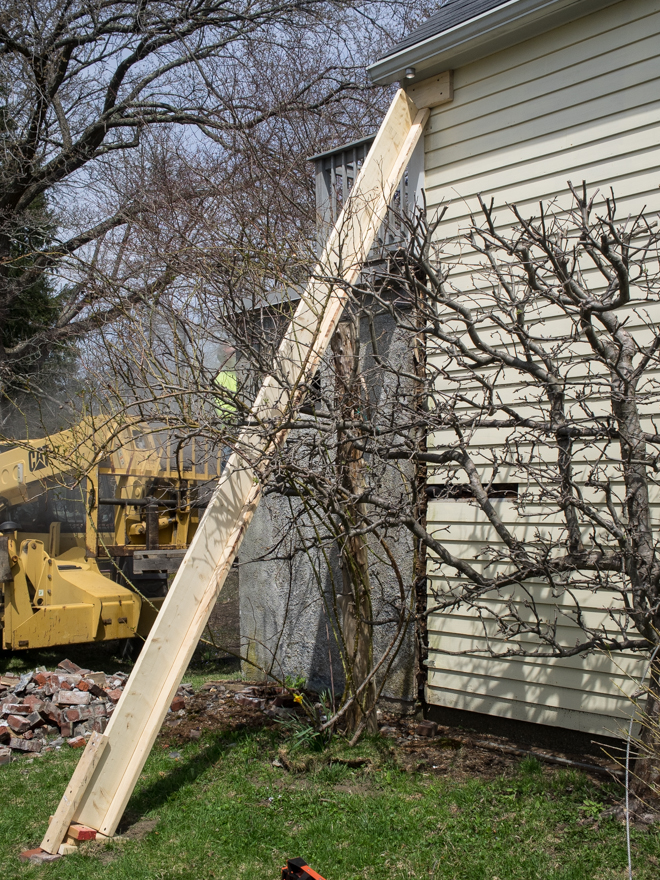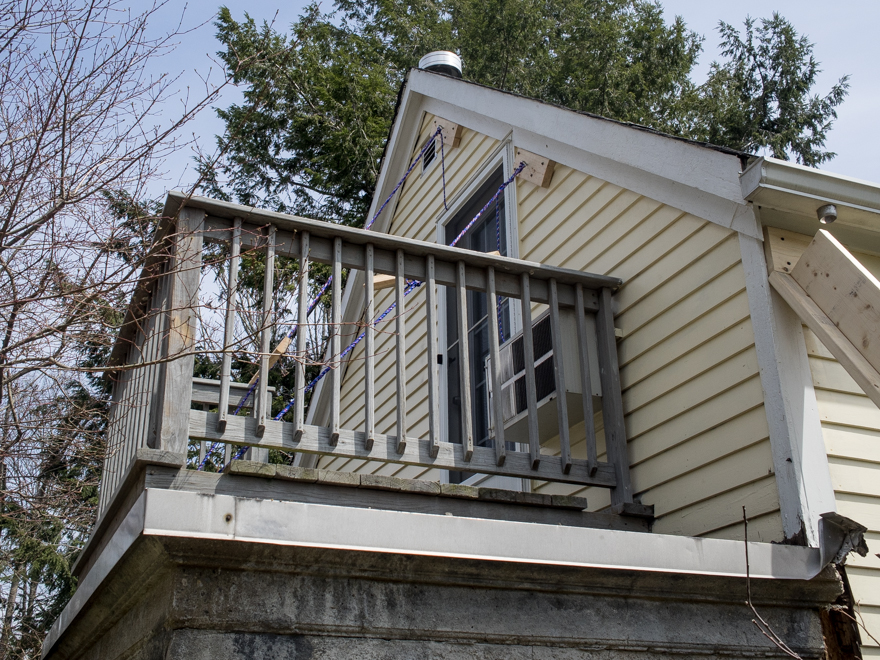 Steve was a bit concerned about how to safely demolish the small shed.  The roof seemed like it was made up of 8 inches of solid concrete, and the strength of the terra-cotta block walls was uncertain.  Further complicating things, we needed to leave the stair to the second floor in place while we were taking down the shed.  He decided that the best approach was to temporarily support the roof with an off-road fork-lift while taking down the walls, to eliminate the possibility of the roof coming down unexpectedly.  This is the sort of solution that would never occur to me, and a good example of why I like to work with Steve.
The first step was to make access holes for the forks in the face of the shed.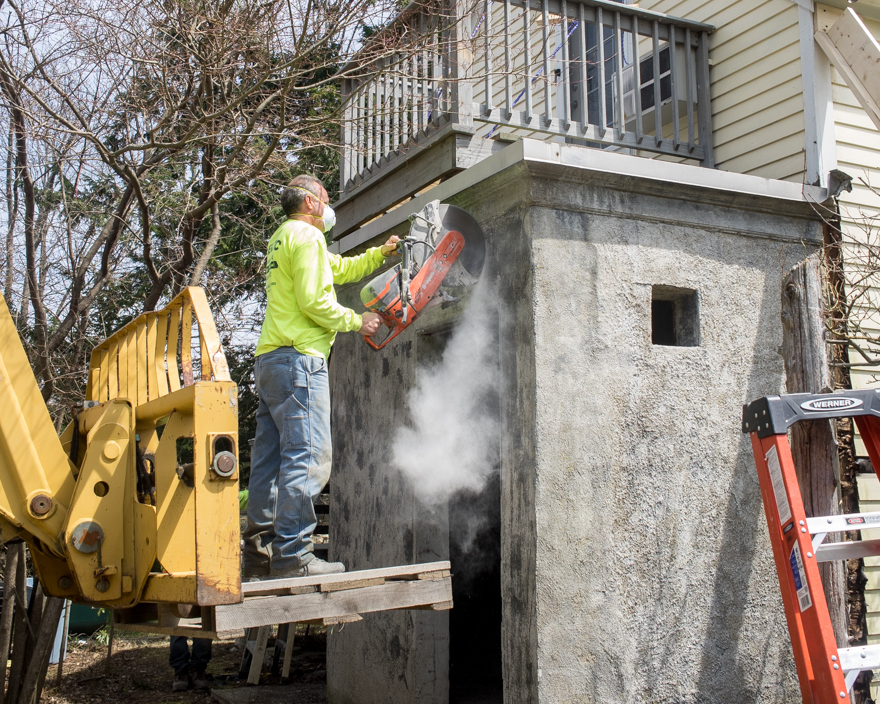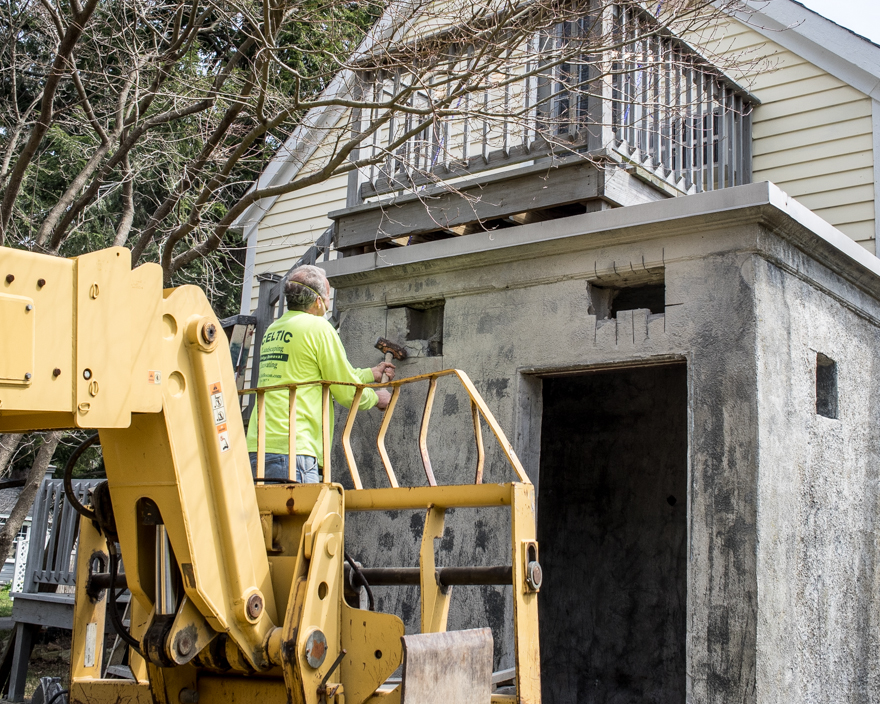 And then time to set the machine.
Followed by demolition of the upper portion of the walls.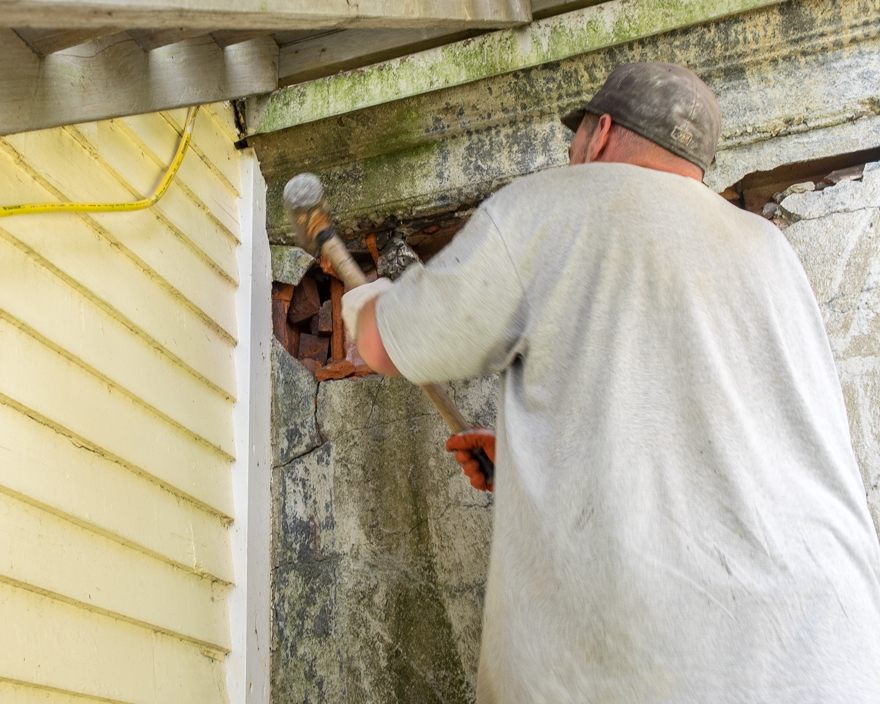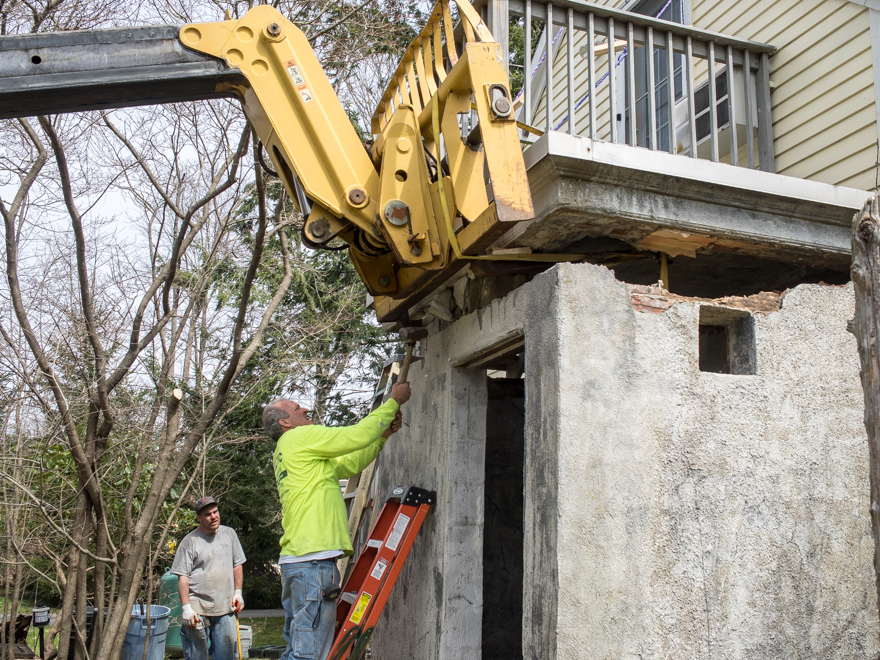 And then, (gently) bringing down the roof.
The rest of the walls came down easily, and the final step was to break and remove the shed's foundation.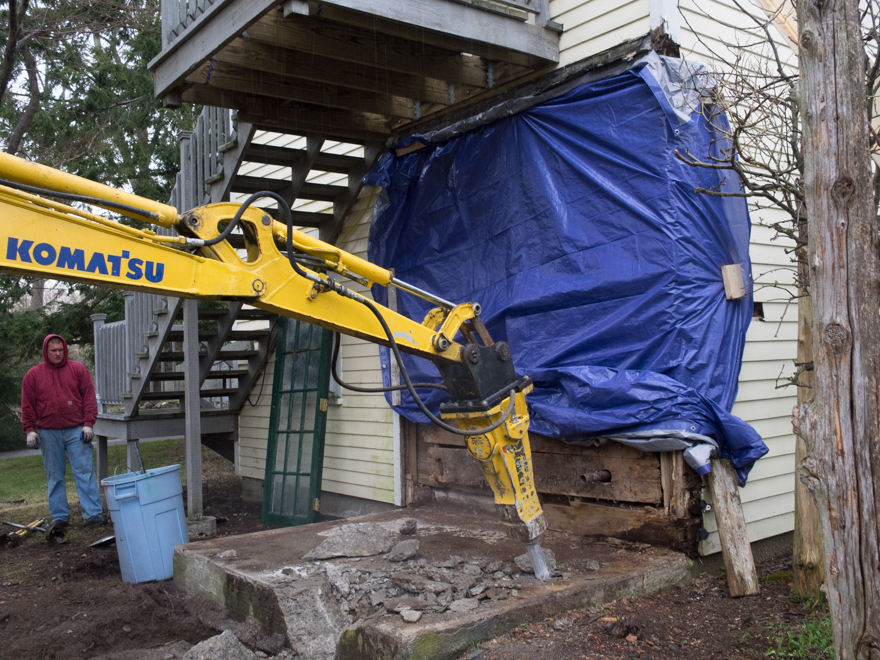 Steve is typically a very cool character, desirable, I suppose, in someone operating heavy machinery.  As the shed demolition proceeded, and especially as the heavy roof was balancing on the forks, he seemed edgier than I'd noticed before.  Once the structure was down and he was more at ease, I asked him how hairy this project was compared to others he'd done.  "Oh, about a five."